Welcome to my World wide web Index
Personal Web réalization.
The Québec Port of call for cruise ships
On my site, you will find pictures of the steamers which come in our port, other ships, links and maritime life. All these pictures were taken by myself, and are my royalties. My site will bring you to super maritime links, historical of the old port of Quebec, the construction of the steamers, their history, the maritime events in the world as well,some very beautiful sites about those big cruise-ships. Moreover on my site I bring you with the Web cameras on the Steamers, you can see the sea, the port were they are and all this on line. I wish you a nice visit.Start your visit click the moving ship (Copyright ©2002.J.Proulx All Rights Reserved.)
Click on the Mini mooving cruising boat which move-Open in Flash and Applet


VISITORS
View my guestbook Sign my guestbook
Come to visit the Québec Port Authority
Visit this site, lots of Internet information, lots download programs etc..
Visit the Old Québec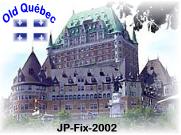 France, this site is for the Classification of web sites
COME VISIT ALL MY WEB SITES CLICK BANNER

Write to me about my site
This site is a Québec made by - J.Proulx2002
UP-DATE: 2002-10-17 01:10